The company that I worked for had just recently installed a computer with internet access in our break room and was intended for locating and ordering parts and equipment. I spent practically every available moment finding out about this new (to me) phenomenon that was domain names. My first 5 or 6 registrations were through Register.com at $35 per reg. It didn't take long for me to get sucked in to registering more. I quickly discovered less expensive registrars. I also learned that pricing wasn't everything. Remember Registerfly? (Editor's Note: Registerfly was a registrar that collapsed, leaving many customers in limbo for months before the chaos was sorted out). That was a real nightmare and luckily, I was able to transfer out all of my names held there to another registrar.
In the beginning of my domain journey, I spent numerous hours on Afternic. The current site bears little resemblance to what Afternic used to be. In it's infancy, Afternic had a discussion board that allowed you to post about domains. There were many opinions discussed and occasionally an inside trick or two was revealed. It was very much about traffic and pay per click back then. I wound up at DNForum after Afternic changed. Some of my more valuable domains were purchased there for next to nothing. I wish that I still owned a few that I sold for a meager profit. Who knew!
ADN.US: What specifically attracted you to .US domains as an investment or TLD to build on?
Steve Orosz: I was aware of the release of .US to the American public, but merely watched as it unfolded. Early on, my first dozen or so .US domains that I owned were purchased from others on DNForum for about twice what they had spent registering them. It was simple to view lists and choose domains that you liked instead of spending hours and hours searching for availability. Of course, there seemed to be a much higher quality of keyword(s) domains in .US versus trying to find something in .com. I really believed that .US would gather steam much like many of the other country codes have done.

I thought too, that .US would perhaps be a safer haven than .com had proven to be. There were hoards of online scams and the vast majority of them operated under .com. European, African, Asian fraudsters were (and still are) out in full force. I thought initially that U.S. residency requirements for registering a .US domain would have offered some level of safety for users, but it appears to have only thwarted potential foreign investors from considering .US for an online presence (Editor's note: Non .US residents can own .US domains if they use them to operate a business that serves American customers) .

I also believed that you might see a push for Americans seeking American products. That would be right in line for a registration restricted .US domain and website. Sometimes, I think that I think too much. Think about that!

Orosz also has a passion for golf - one that is reflected in his portfolio as well: GolfEquipment.us, GolfPro.us, Irons.us.
ADN.US: Considering how popular the local ccTLDs is in other nations around the world, why do you think .US has been overlooked and under-utilized since it opened to all Americans in 2002?
Steve Orosz: The primary factor has been, simply put.....demand. In the awakening of the internet in the United States, the .com namespace was what most people knew. And even if you considered an alternative it was usually .net. By 2002 when .US was presented, .com was entrenched in everyone's mind and anything else was confusing.
Neustar (the former administrator of the .US TLD) did little to promote .US like they should have. Kind of like the Chicago Cubs business plan for decades - spend little, reap the rewards, and don't worry about the seats because there are enough fans to keep it profitable. I hope that GoDaddy (who bought Neustar this year) sees the potential for .US and brings it more to the forefront when registration queries offer alternative suggestions to .com.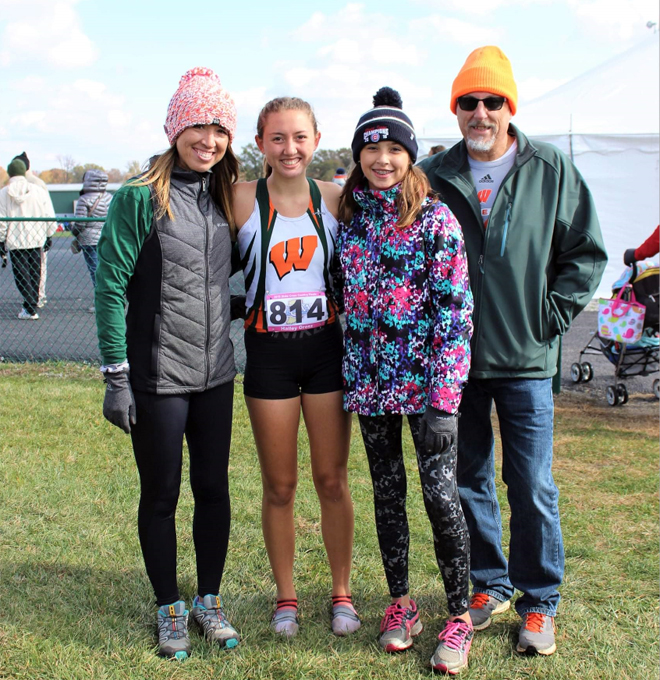 Orosz and his family live in northern Indiana now and his portfolio reflects his priorities today - OurFamily.us, iRun.us and X-C.us. The latter is the abbreviation for cross country sports. Steve's daughter is headed to Arizona State University where she will be on the cross country team.
ADN.US: The Covid pandemic has forced many business to develop an online presence or improve an existing one. By almost all accounts, this has created a boom in aftermarket domain sales. Have you been seeing this with your .US holdings.
Steve Orosz: Somewhat. Interest in all extensions has improved. This includes .US. The largest boost for any company from circumstances surrounding Covid was Zoom.us. You could argue Amazon benefited monetarily more than anyone, but I bet that Zoom.us saw the largest jump percentage-wise over anyone. That exposure for .US proves that the extension is viable and worthy of investment.
I read somewhere that the pandemic caused a three to five year springboard for businesses that were considering a transition to online. If you are wanting to create an online presence, you must have a decent domain. Many are now finding out the limited availability of decent domains.
ADN.US: I understand your most recent .US sale was IronHorse.us and the $3,500 price you got was a good one for a two-word .US domain. Tell us about the buyer and how that transaction happened?
Steve Orosz: They contacted me via my "for sale or lease" landing page. The offer was minimal, but enough to warrant serious consideration. I countered with an amount that I deemed would make me happy. It was accepted without hesitation and they almost immediately initiated an escrow transaction. All went as smooth as usual and they are excited and happy with their acquisition. I suspect (who knows) that they may have paid more, but I set the price that made me content and sealed the deal. No regrets.
ADN.US: The buyer, Iron Horse Companies LLC, just got the domain a few days ago, so we don't yet know exactly how they will use it yet but, as an American commercial and residential plumbing company operating in multiple states, IronHorse.us couldn't be a better fit.

Steve Orosz: If you visit their current site, you will see "Iron Horse" written on all equipment, hardhats, tee shirts, etc. Their primary domain -

IronHorseCompanies.com - resolves to a long acronym - ihcaz.com (for iron horse companies Arizona) - which was their attempt to escape the long domain for a shorter one. Still confusing. IronHorse.us was the perfect solution for them. Perfect!
ADN.US: In a world of hundreds of domain extensions, where do you see .US going from here?

Steve Orosz: I think that for many of the new extensions, the vast majority of the registrations made will never see the light of day. This holds true for every extension, maybe excluding .com. Even then, I suspect that many, many .com registrations do not resolve to a working commercial website. Eventually, the new extension registrations will run out of gas and most renewals will not happen. Pure speculation by registrants, which (by the way) is the name of the game.

Call it wishful thinking, but I believe that .US domains will gain visibility and acceptance here in The United States and will also attract foreign investors who understand the value of the US market. People outside of the US understand the value of a good Country-Code domain. Ask anyone in Germany (.de), Australia (.au), The UK (.uk), Italy (.it), etc, what the primary domain extension is for them. Many will say ".com", but after that, it is always their own country's ccTLD.

ADN.US: Thanks for taking time to share your thoughts Steve. It has been a pleasure to catch up with you.

Steve Orosz: Thank you so much for the opportunity to talk domains!

Posted July 27, 2021. Permalink for this story:
https://www.adn.us/profiles/2021/my.us.story.orosz.0727.htm