By Ron Jackson
On March 1, 2023 US domain registrations hit the highest level we have seen since we started tracking the numbers in July 2021 (ADN.US was launched on July 4, 2021). After 34,197 .US domains were added in February 2023, total registrations in America's official Top Level Domain (TLD) reached 1,915,300.
That number represents a 7.3% increase in .US registration from the same date one year ago. That is far higher than the annual growth rate for all country code TLDs worldwide which was 4.5% according to Verisign's most recent Domain Name Industry Brief published in December 2022.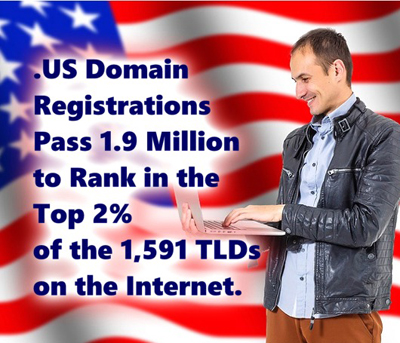 The 34,197 domains added in February 2023 is the third highest single month total we have seen in the 21 months we have been following the data. The highest one-month total was 38,264 in July 2022, followed closely by the 37,725 added in March 2022. There are almost 1,600 TLDs on the Internet today. With over 1.9 million domains registered, .US ranks among the top 2% of all TLDs worldwide, yet it is still one of the most affordable options - for both new registrations and premium aftermarket purchases - that any enterprise, organization or individual in search of a meaningful domain name will find.
Posted March 2, 2023. Permalink for this story:
https://www.adn.us/news-views/2023/0302.htm
Follow us on Twitter: @AmericanDomains