By Ron Jackson
There are now hundreds of ccTLDs (country code top level domains) on the Internet as every country on earth, as well as other selected geo locations, have one of their own. They have become extremely popular too with over 132 million ccTLD domains currently registered worldwide (according to Verisign's latest Domain Name Industry Brief). The honor of being the very first ccTLD on the web went to America's Internet Address, .US, with the extension officially launched on February 15, 1985, 38 years ago today!
That fact surprises a lot of people. .US feels like a newer TLD, largely because it wasn't made available to all Americans (and others who do business in America) for another 17 years! The .US version of Independence Day didn't arrive until April 24, 2002 when the gates that had limited it to specific uses (schools, law enforcement, etc) finally came down.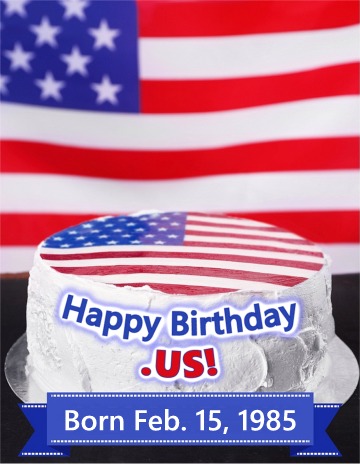 Despite the other original TLDs, including .com, .net and .org, getting a huge head start, .US has now taken its place as one of the best options for those looking to secure a meaningful, memorable address on the Internet. Nearly 2 million .US domains have been registered by individuals, organizations, small to medium sized businesses and major international corporations. The list includes the dominant force in video conferencing, Zoom.us, America's fastest growing supermarket chain (with over 2,500 stores) Aldi.us, Ollies.us (America's biggest chain of closeout bargain stores with nearly 400 stores across the U.S), fashion king CalvinKlein.us, MasterCard.us, Shell.us, Bosch.us, world famous ice cream maker HaagenDazs.us, CBRE.us (the huge real estate services provider with 200 offices across America), ClubMed.us, AirFrance.us, AndersonCompanies.us, Osram.us and many more.
For domain buyers, the positive side of .US being held back for so long is that a lot of great domain names are still available at affordable prices in America's most meaningful namespace. Even at 38 (21 if you take away the 17 years the TLD wasn't allowed to leave the house!), .US still has lots of room to grow - giving fans of the nation's official domain extension even more reason to celebrate.
Posted February 15, 2023. Permalink for this story:
https://www.adn.us/news-views/2023/0215.htm
Follow us on Twitter: @AmericanDomains