Drive.us Sold for $99,999 in Biggest Verified .US Sale Ever Reported
Editor's note: This article, first posted on DNJournal.com, has been reprinted with their permission.
By Ron Jackson
Since the current domain sales boom began (soon after the start of the global pandemic that forced countless businesses to create or strengthen their online presence) we've gotten used to seeing big sales in an increasingly wide variety of TLDs. While .coms continued to command the most money, TLDS like .io, .co, .xyz and and a few others have flirted with, or even surpassed the six-figure mark.
Now, in the biggest .US sale we have ever been able to verify, the ccTLD for the United States of America (and the first ccTLD created on internet in 1985) has thrown its hat into the ring. Veteran domain investor Keith Trost just sold Drive.us for $99,999 in a Buy It Now transaction on the Afternic platform (we've seen the documentation).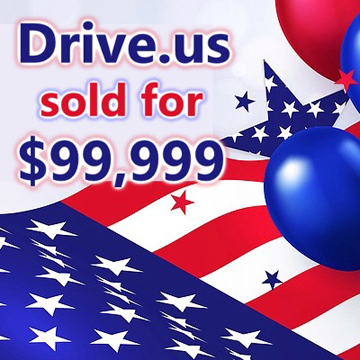 Keith, who had the year's 4th highest reported domain sale in 2020 with NAS.com at $720,000, doesn't yet know who the Drive.us buyer is. As of this writing, the domain is resolving to a GoDaddy parking page, however the public WhoIs record now shows a registrant email address tied to Mark Monitor, a firm well known for managing domain asserts for some of the biggest companies in the world. So, odds are good the new owner's name, when it is revealed, will be one that is already familiar to a lot people.
The $99,999 paid for Drive.us is a big jump from what the highest publicly reported .US sales fetched last year when Yellow.us and PPE.us went for $20,000 each and Task.us attracted $18,000. With the bull market sending prices for one-word and short acronym domains in .com into the stratosphere, short domains in some other TLDs will likely continue to attract buyers who either can't afford the term they want in .com or can't get it at any price due to it being in use and off the market. The rising tide may not be lifting all boats, but it is certainly lifting a lot more than it used to.