By Ron Jackson
By all accounts 2021 was a boom year for domain sales. I am happy to be able to tell you that .US was among the TLDs that benefited from the surge. Our parent company has a large domain portfolio, and the .US portion reached its highest ever level of sales. We sold 48 .US domains in 2021 (and have sold six more in the first three weeks of 2022) and the buyers have been exactly who we hoped they would be. Most were SMBs (small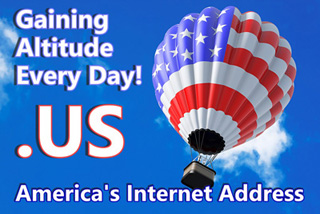 to medium sized businesses) and almost half of the domains they purchased have already been developed and are now helping to accelerate ever growing recognition of our nation's official ccTLD (country code top level domain).
To show you how the domains we sold in 2021 are being used now, we are going to do a series of posts featuring those new .US websites. These will illustrate the many things .US is perfectly suited for and why we are confident the extension is on its way to fulfilling the enormous potential we saw in it when it was first opened to all U.S. citizens (and those outside the U.S. who serve the U.S. market) in 2002.
A good example of the kind of buyer we attracted in 2021 is Digital Dolphin Products who bought DDP.US for their ecommerce site specializing in printer ink and toner cartridges compatible with just about all OEM products. DDP has a strong business but a 3-letter .com, even if it were for sale, could easily cost $100,000 or more - well beyond the budget of most SMBs. However, as a company that serves customers all over America, including many government agencies (the U.S.

Department of Homeland Security and theU.S. Navy among them), the 3-letter .US was a perfect fit at a fraction of the cost. By the way, DDP, who is based in Henderson, Nevada is also a generous, socially responsible company. A portion of every sale goes to global chairty Whales and Dolphin Conservation (WDC)
The Restoration Company also put a domain they bought from us, Restoration.us, to good use. The Fresno, California based company is a full service restoration general contractor who fixes fire, water and mold damage of all kinds. One of the most appealing things about .US is that it can not only serve as a geographical locator to instantly show potential customers you are a proud American company, it can also be mean the word "us" - signifying that your

company is the very definition of the keyword. Restoration.us says "we are restoration, restoration is us!" It is a very powerful massage and it is all conveyed by the domain extension.
We also saw several of the domains we sold used as a shorter, more memorable name used to redirect traffic to an existing website with a long, easy to mis-spell or forget domain name in another extension (the new name also provides a much shorter email address). A perfect example is UWS.US (names can't get much shorter that that!) - a domain we sold to Upstate Warrior Solution, a non-profit organization based in Greenville, South Carolina that had already invested in an impressive site built on UpstateWarriorSolution.org.
UWS now uses UWS.US to make it much easier for people to reach them. Not only that - UWS's mission is to help American military veterans find jobs, collect any benefits they may qualify and generally just lend a a hand whenever it is needed. For an organization devoted to American vets what domain extension could be better than America's official Internet Address - .US? We know the answer to that and thousands of other American businesses, organizations and individuals are coming to realize and recognize the answer too.
In our next post (and several more after that) we will show you what many of our other recent buyers have done with their new .US domains. We have loved seeing them land in the hands of high quality organizations and enterprises who are building outstanding destinations on them - all helping to take America's domain extension to the next level.