By Ron Jackson
There are only 171,476 words in the Oxford English Dictionary and virtually every one of them has been registered as a .com domain. No surprise there since more than 156 million .com domains have been registered. As a result, one-word domains in .com are either prohibitively expensive for most small to medium sized business (SMBs) or not available at any price. That is why you are seeing so many new companies setting up shop on the next best option, which for many, is their nation's ccTLD (country code domain extension).
That was the case for Tango, a rapidly rising company in the SaaS space. A British beverage company is already operating on Tango.com, but the blossoming tech firm was able to secure Tango.us at an affordable price and their booming business is right at home in a natural online location for any American business.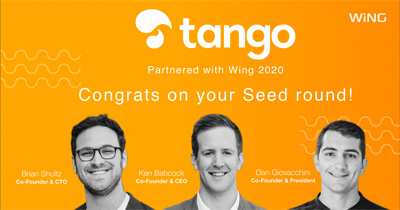 Tango, a modern, easy-to-use application that streamlines the process of creating workflow documentation, just received a $5.7 million seed round investment led by Wing Venture Capital and joined by General Catalyst, GSV Ventures, Outsiders Fund, Red Sea Ventures, and many prominent angels. TechCrunch posted the full story about this exciting new company on August 24, 2021 that explains why they are attracting so much attention from investors and the tech community.
In addition to the steady flow of new companies driven by innovation, the current Covid

pandemic has demonstrated why everyone in business has to think about doing more business online. Those forces have created
a boom in the domain aftermarket. .US is benefiting from that boom thanks to its ability to provide popular one-word, 3-letter acronym and meaningful multiple word term domains at prices that are still affordable - while also providing a TLD (domain extension) home base that is a perfect match for any American company, organization or individual, as well as any enterprise that serves the U.S. market.
Posted Sept. 6, 2021. Permalink for this story:
https://www.adn.us/news-views/2021/0906.htm
Follow us on Twitter: @AmericanDomains